Up-Down Forecast Performances
The versatility of the expert system Up-Down Forecast enables one to make analyses on different markets and different types of financial instruments: the results obtained in the medium to long-term tests have always been higher than those of the benchmarks, whilst keeping the same level of risk. The out-of-test utilization, as of 2012, has confirmed the potential of the system.
One of the models optimized for the Italian stock market is used by Cellino and Associati SIM for the investment line "Up-Down Forecasting Azionaria Italia 5" introduced at the end of 2013. This model operates on a basket consisting of approximately 90 stocks present on the Italian market, chosen among the most traded ones, and prescribes that at any given time the portfolio should be invested in a maximum of five stocks.
Below are reported, in graphical and tabular form, the results obtained by Up-Down Forecast applying this model in the period following the test phase completed in 2011. It should be noted that the data shown refer to the more performing model, with an expected lower risk, which, since July 1 2018, has replaced the model initially adopted. The results obtained by the previous model, updated until June 2018, can be viewed at the following link.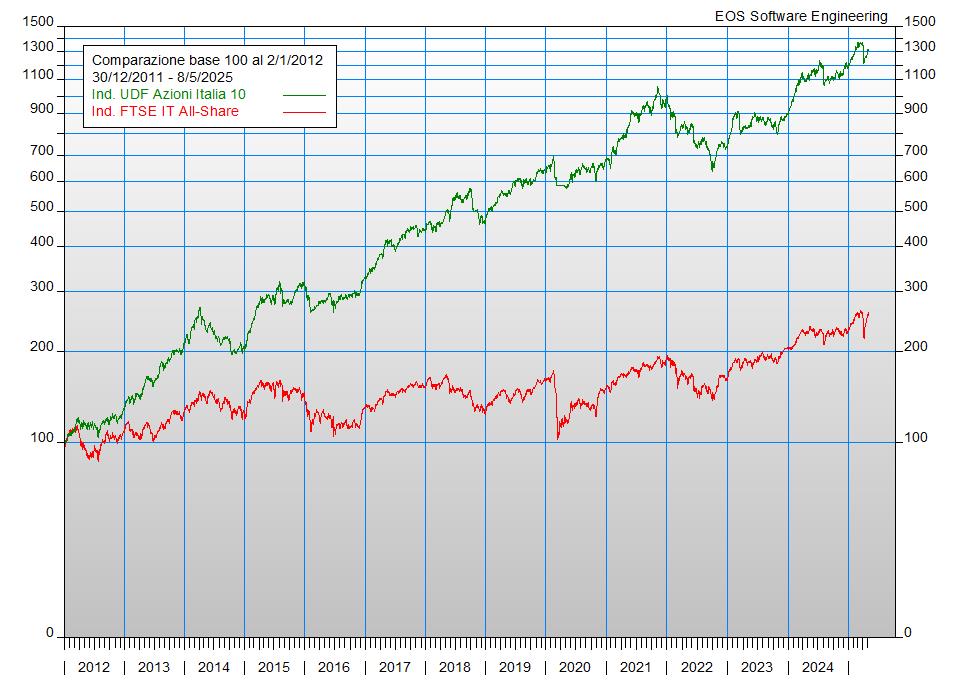 NOTE: all data displayed in the chart are updated to the previous day. All charts published on this site have been created by Up-Down Chart application
Performances from 2012 to 2018
| Year | Up-Down Forecast | FTSE IT All-Share | Difference |
| --- | --- | --- | --- |
| 2012 | +9,47% | +8,36% | +1,11% |
| 2013 | +60,69% | +17,63% | +43,06% |
| 2014 | -2,23% | -0,33% | -1,90% |
| 2015 | +39,24% | +15,38% | +23,86% |
| 2016 | -4,69% | -9,90% | +5,21% |
| 2017 | +43,04% | +15,55% | +27,49% |
| 2018 | -22,21% | -16,71% | -5,50% |